Fans of Audi vehicles and automobiles are counting down the days till the 2022 Audi A5 is released. This is one of the most anticipated vehicles of the year because of its stylish exterior, high-end interior, and potent performance. Some customers, though, could be inclined to hold off on making a purchase until later. In this article, we will explain its features step by step and give the reasons why you should not wait to buy the 2022 Audi A5 and act now.
Advanced Technology
The Audi A5 2022 is equipped with features that improve ride quality, usability, and security. It also has the Audi Virtual Cockpit, MMI infotainment system, and Bang & Olufsen 3D sound system. Its head-up display and others are just a few of the high-tech extras that set this vehicle apart. You may be certain that these additions will improve and enrich your time spent behind the wheel. Hence, by waiting to buy the 2022 Audi A5, you may miss the opportunity to experience these cutting-edge technologies.
Great Performance
The Audi A5 20 provides outstanding performance. This vehicle's 2.0-liter four-cylinder engine generates 261 hp and 273 lb-ft of torque, allowing for rapid acceleration. The dual-clutch seven-speed S Tronic gearbox is designed to facilitate smooth gear changes and driving. In addition, the car's all-wheel-drive technology was built to provide superior handling and control, even in adverse weather or on slick terrain.
Competitive Pricing
The reasonable cost that is now available is another reason why you should not delay purchasing a 2022 Audi A5. Excellent rebates, discounts, and leasing/buying plans are available at local dealerships for this model. Act quickly to take advantage of these deals and save a significant amount of money while also improving the terms of your purchase.
Classical Style
This is a classic example of Audi's design philosophy: it is a perfect synthesis of beauty and power. From its elegant front to its dazzling LED headlights, everything about this automobile screams elegance and refinement. Its stylish appearance comes with a roomy, high-end interior designed for maximum convenience and relaxation. The Model has a classic look and superb handling that will please drivers for years to come.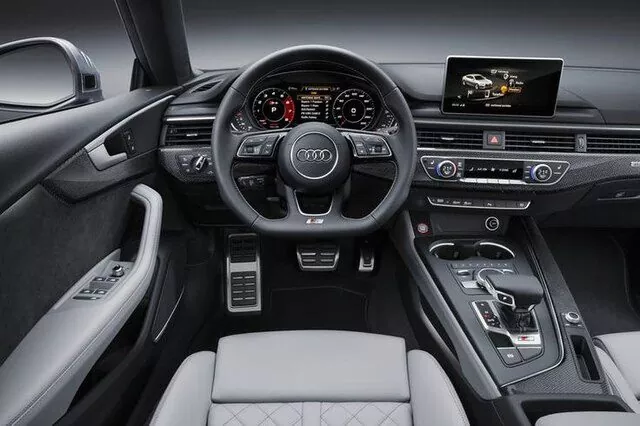 Resale Value
The resale value of a 2022 Audi A5 purchased now might be excellent. This is one of the year's most desirable vehicles after the Audi A7. It will maintain its worth long into the foreseeable future. If you take action right now, you may buy this automobile, drive it, enjoy its performance and features for a few years, and then resell it for a handsome profit.
This vehicle is likely to sell out soon this summer because of its low supply, cutting-edge features, stellar performance, reasonable price, classic styling, and high resale value.
Buying Guide For 2022 Audi A5
There are a few things to keep in mind if you're thinking about purchasing a 2022 Audi A5 to make sure you get the most for your money. Important considerations for acquiring this car we will discuss in this buying guide.
Set A Price Range
Establishing a spending limit is the first order of business while shopping for an automobile. When it comes to pricing, it's no surprise that the 2022 Audi A5 is in the luxury segment. Think about your budget and how much you can really spend on this vehicle. The purchase price of a vehicle is only the beginning; you'll also have to pay for things like insurance, repairs, and gas.
Choose The Right Trim Level
There are three Audi A5 2022 trim levels available: Premium, Premium Plus, and Prestige. Selecting the trim level that best fits your demands and budget is crucial because of the variety of features and choices available. The Premium model is the entry-level one; higher-end Premium Plus and Prestige variants have additional bells and whistles to offer. While deciding on a trim level, it's important to think about the amenities you'd want to have. Such as the latest in safety technology, a certain infotainment system, or a certain kind of upholstery.
Decide On The Engine And Drivetrain
The standard engine in the 2022 Audi A5 is a 2.0-liter inline-four that generates 261 hp and 273 lb-ft of torque. It also has Audi's trademark Quattro all-wheel drive and a seven-speed S Tronic dual-clutch gearbox. Even though this motor is strong and competent, you may be able to upgrade to a more potent motor or a different powertrain if you so want.
Consider The Available Options And Packages
The 2022 Audi A5 is available with a number of trims, options, and bundles from Audi. Including the S line, Navigation, Convenience, and Sport package. Review the features and options available in each package and choose the one that best suits your needs on the road. These add-ons are available for an extra fee but may significantly increase your purchase's value.
Test Drive The Car
Taking a test drive of the 2022 Audi A5 is crucial after you have narrowed down your selections and selected the characteristics you desire. You may learn a lot about the car's handling, features, and general driving experience by taking it for a spin. A thorough understanding of the car's capabilities requires a test drive in a variety of settings, including on motorways, city streets, and rural roads.
Research Financing Options
Next, think about your financing alternatives for the 2022 Audi A5 you've decided is the best fit for you. Leases and outright purchases are only two of the financial alternatives we have by Audi. Banks and other lending organizations are other possible sources of funding. You should do your homework to choose the most suitable kind of financing for your needs and circumstances.
Conclusion
Overall, the 2022 Audi A5 is a high-quality premium vehicle that is worth purchasing. You can get the most out of your money and fully appreciate it. What this amazing car offers by keeping these things in mind and making a well-informed purchase. So, you should not wait to buy the 2022 Audi A5.