The Hyundai Palisade, a three-row SUV, has been upgraded for the 2023 model year, and I'm here to show it to you this week. In addition, it joins the Santa Fe and Tucson XRT models as the third Hyundai to sport the XRT badge, signaling an increased emphasis on off-road prowess. The new 2023 Hyundai Palisade XRT is just aesthetic; it does not improve upon the SEL's conventional features in any way. Let's dive further into its features, specs, and competition with other trim levels.
2023 Hyundai Palisade XRT Specs
Engine and Transmission
Torque: 262 lb-ft @ 5200 rpm
Engine: 3.8L V6 Gas
Horsepower: 291 hp @ 6000 rpm
Drivetrain: Front-Wheel Drive
Transmission: 8-Speed Automatic
Exterior
Since its introduction, the 2023 Palisade has been a gorgeous SUV that commands respect for all the right reasons. In 2023, it will get a revised look thanks to new front and back bumper fascia, headlights, and wheels. Hyundai has taken a page from Lexus' playbook and widened the grille, so you'll have to be a fan of massive front fascias.
The Steel Graphite 2023 Hyundai Palisade XRT is a head-turner due to its dark-finish 20-inch alloy wheels, XRT-exclusive Black Chrome grille, and other rugged design elements like black skid plates. With its wider grille and front and rear fascia elements, it certainly makes an impression – this SUV is designed to stand out on any terrain.
Side mirrors
Power and heated side mirrors are standard throughout the Palisade family, while LED daytime running lights, taillights, and headlights are standard on the XRT. You may expect black roof rails and twin-tip tubes for exhaust in the rear.
Powertrain
All Palisade models are powered by the same 3.8-liter V6 engine, which generates 291 horsepower and 262 pound-feet of torque. It is coupled to a paddle-shiftable 8-speed automatic gearbox. It also has All-Wheel Drive, which was very helpful last month when I went off-roading in the North Texas countryside. The 2023 Hyundai Palisade XRT AWD might be a fantastic option if you often travel off-road or live in a rainy climate.
The Palisade isn't the first SUV that comes to me when I think of off-roading, and it won't be as competent as, say, a new Toyota Sequoia or a Jeep Wrangler, but it can do modest off-roading just fine.
2023 Hyundai Palisade XRT Interior
The large interior continues the exterior's dark color scheme with a suitable blend of soft-touch and plastic surfaces. The black H-Tex leather chairs in the efficient interior have white piping and embroidery. The driver's and passenger's heated seats include eight-way and six-way power adjustments, respectively.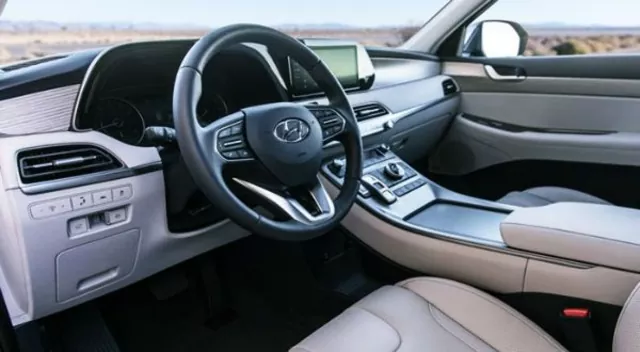 Elements such as the instrument cluster and steering wheel leather covering have been updated. The updated design and higher-quality feel of the controls on the steering wheel are also great improvements. If you have trouble seeing small text, you'll like the new digital driver display's bold numbers and clear images.
Camera And Control Buttons
The spacious central console has a push-button gearbox and a dial for selecting driving modes. The climate controls, like the buttons for the backup camera and the engine stop/start function, are rather a standard fare. There are cup holders in the center of the console.
Touchscreen
The 12.3-inch touchscreen with navigation in my Hyundai remains a favorite feature. It has beautiful visuals and a detailed map. The system is quick to react, and the DVR works well. The system is equipped with Bluetooth, SiriusXM, HD Radio, and the smartphone integrations Apple CarPlay and Android Auto. Wireless charging has been made more rapid, and additional USB Type-C connections have been installed in the cabin.
Seats and Cargo Space
The XRT has roomy seating for seven, with lots of head and legroom. Comfortable captain's chairs are provided for those riding in the second row. A full-grown adult may sit in the third row. The second row of seats in trims above the XRT is heated and ventilated.
Usefulness is excellent as well. The Palisade has simple-to-use power-sliding second-row seats that make getting to the third row a breeze. In addition, the cargo area releases may be operated electrically from behind the vehicle. This trim level lacks Hyundai's impressive power third row. Only the Limited and Calligraphy grades are equipped with the function.
There is sufficient space for goods like Hyundai Tucson, even with the rear seats in the upright position. There's also a hidden storage space under the floor towards the rear.
2023 Hyundai Palisade XRT Features
Standard features include a hands-free smart liftgate, front and second rows USB ports, a wireless phone charger, and a Rear Seat Quiet Mode.
Although the XRT has conveniences, a few aren't accessible on this model. Rain-sensing windshield wipers, a panoramic sunroof, a rearview camera, a head-up display, and USB Type C connections in the third row are not included. And this is…? The XRT also lacks the option of a 12-speaker Harman Kardon premium audio system. You may find this article helpful: Hyundai Transmission Repair and Replacement Cost.
Ride and Drive
The Palisade is almost perfect, but the steering sensation is off. There's not enough heft to the controls, and the whole thing is too light. The steering is also not as tight as it might be, making for a less-than-thrilling experience. However, the ride quality is excellent, thanks to the quiet interior and well-tuned suspension. To do this, Hyundai installed soundproofing materials and fine-tuned the engine and gearbox. There are three available driving modes: Normal, Sport, and Smart. If you want a small car with the same features, head to the Hyundai Elantra.
Safety
The cutting-edge safety features in Hyundai's vehicles continue to wow me. The Palisade has features like Lane Following Assist and Forward Collision-Avoidance Assist. It also has Rear Cross-Traffic Collision Avoidance, Blind Spot Collision Warning, and Driver Attention Warning to help drivers avoid potential accidents. It has a built-in Ultrasonic Rear Occupant Alert system as well. Hyundai improved its Hyundai Kona with extraordinary electric features, So if you want an Upgraded electric vehicle, look no further than it.
Moreover, you get the automaker's capable semi-autonomous system, Highway Driving Assist, as standard equipment. Even more amazing is the newer, more sophisticated technology found in Hyundai's Highway Driving Assist II. In 2023, Hyundai began including rear-side airbags as standard equipment.
2023 Hyundai Palisade XRT MSRP
Carpeted floor mats may be added for $215, bringing the total MSRP to $43,690, which is quite low for a luxury SUV with three rows of seats. However, you should go through a comprehensive list of all its features to ensure that it includes the ones most significant to you. Click here to know the 2023 Hyundai Ioniq 5 Updated Features And Price.
2023 Hyundai Palisade XRT Vs Calligraphy
There are notable distinctions between the XRT and Calligraphy versions of the 2023 Hyundai Palisade. With its all-terrain tires, skid plates, and other off-road characteristics, the XRT aims to be a more robust and adventurous SUV. At the same time, Calligraphy focuses on luxury with its panoramic sunroof, quilted leather seats, and digital instrument cluster. The XRT's starting price is several thousand dollars lower than the Calligraphy's, making it a more wallet-friendly option.
Final Verdict
The 2023 Hyundai Palisade XRT is to be a fully loaded and competent SUV, ready to take on any road or trail. It has cutting-edge features, a durable design, and reliable performance, so it should find widespread interest. It has a darker grille, black roof rails, and bigger wheels with a dark finish. Some personalization choices, like a second-row bench or the Premium Package, are unavailable, but this is a small price to pay for the sake of aesthetics. The XRT is a great way to treat yourself while staying within your budget if the regular SEL meets your needs.