Toyota Hybrid models have cutting-edge alternative fuel technology that allows you to get more out of your commute while reducing your carbon footprint. Toyota's lineup of hybrid vehicles includes compact, midsize, and full-size sedans. In addition to midsize and full-size hybrid SUVs that provide economy, durability, and power for the twenty-first century.
Toyota will release a mid-cycle refresh in 2023. The refresh will feature a more powerful hybrid engine and updated styling. Trim levels will be redesigned with expanded standard features and the refresh will include all-wheel drive (AWD).
In the small hybrid market, the Toyota Corolla Hybrid competes with vehicles like the Hyundai Elantra Hybrid, the soon-to-be-released Honda Civic Hybrid, and the Toyota Corolla Cross Hybrid.
About the Toyota Hybrid Models
Toyota Motor Corporation's worldwide chief executive officer Akio Toyoda recently shared his plans for the company's future in the transportation industry. Toyoda has stated his commitment to providing eco-friendly transportation options for people worldwide. He aims to achieve this goal as part of his vision to establish a carbon-neutral society. Among his goals are the following:
By 2030, the global market is predicted to sell 3.5 million BEVs annually.
Toyota plans to make 30 BEV vehicles accessible worldwide under both the Toyota and Lexus brands by 2030.
Toyota and Lexus' worldwide BEV product expansion means customers may now choose from BEV versions. There are versions of their favourite vehicle types across the board, from sedans to SUVs to K-Cars to trucks.
Toyota Hybrid Vehicle Lineup
Toyota Prius 2023
The Prius is perhaps Toyota's most recognizable hybrid car because of its distinctive design, cutting-edge LED lighting, and sporty posture. The renowned Toyota Prius can get up to 57 MPG in the city, making fill-ups a thing of the past. The Prius's practical aerodynamics contribute to its sleek design. This helps you get the most out of every gallon of gas. Hybrid Synergy Drive® ensures peak performance from the gas and electric motors.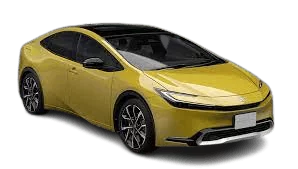 The Prius has a Smart Key System and an integrated backup camera. It has an 8-inch touchscreen display that can be upgraded to 12.3 inches. These are standard technology features in the Prius.
Hybrid Toyota Corolla 2023
A first in the Toyota Hybrid model's long history, the Toyota Corolla Hybrid comes with Toyota Hybrid Synergy Drive to provide exceptional fuel economy. The new Corolla benefits from a reworked multi-link rear suspension, which improves handling and comfort compared to the outgoing model. You can anticipate the unexpected with Toyota Safety Sense 3.0, which comes standard on all new Toyota vehicles. Inside, state-of-the-art technology helps you keep in touch with the world and monitor your productivity.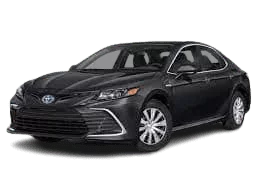 2023 Toyota Camry Hybrid
The Toyota Camry Hybrid, a perennial best-seller among midsize sedan consumers, combines elegant design, exhilarating performance, and exceptional fuel economy. Hybrid Synergy Drive® combines the power of the gas engine and the electric motor to achieve 208 net system horsepower and 51 MPG in the city.
The innovative external design optimised aerodynamics, and lightweight materials allow for this remarkable efficiency. In ECO mode, the vehicle will make the most of each gallon of petrol, while in EV mode, it will run solely on electric power for up to 0.5 miles. The LE trim of the Camry Hybrid provides excellent value, while the SE and XLE trims satisfy customers interested in elegance and performance.
2023 Toyota Crown
The Crown is the Toyota Hybrid model's premier sedan, and the only way to get your hands on one is as a hybrid. It combines high-end amenities with a robust powertrain and impressive fuel economy. The elevated interior provides a more commanding perspective of the road than comparable sedans, and the standard array of safety features is outstanding, as is the case with any Toyota. There is a 12.3-inch screen for the driver and another 12.3-inch touchscreen for media and navigation. The inclusion of all-wheel drive is also standard.
2023 Toyota RAV4 Hybrid
The redesigned Toyota RAV4 Hybrid offers a dynamic and economical new way to go farther on your excursions than ever before. A Permanent Magnet Synchronous electric motor mates to the vehicle's 2.5-liter Dynamic Force 4-cylinder engine. This results in 176 horsepower and 41 city MPG fuel economy.
The 41 MPG city EPA-estimated fuel efficiency rating means less money out of pocket for petrol. With the addition of Toyota's standard Safety Sense 2.0 (TSS 2.0), drivers may feel even more relaxed and assured.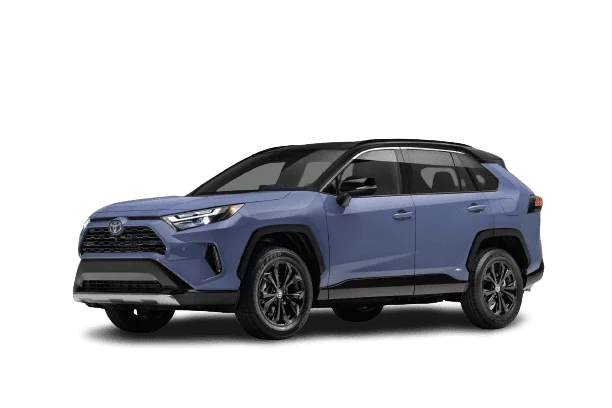 Because of its 41 MPG city EPA-estimated fuel efficiency rating, you'll be able to save money by spending less time and money at the petrol station. The added security and confidence of the standard Toyota Safety Sense 2.5 (TSS 2.5) is a major plus for any driver.
Toyota Venza 2023
The Toyota Venza was redesigned and reintroduced as a cutting-edge hybrid SUV that combines the best of both worlds. The Venza comes with Electronic On-Demand All-Wheel Drive (AWD). It offers 40 MPG fuel efficiency.
Interior features include perforated SofTex®-trimmed leather, heated and vented front seats, and a Star GazeTM panoramic roof. The Venza is equipped with nine JBL® speakers with Clari-Fi® technology. The Toyota Safety Sense (TSS 2.5) package ensures safety for you and your loved ones.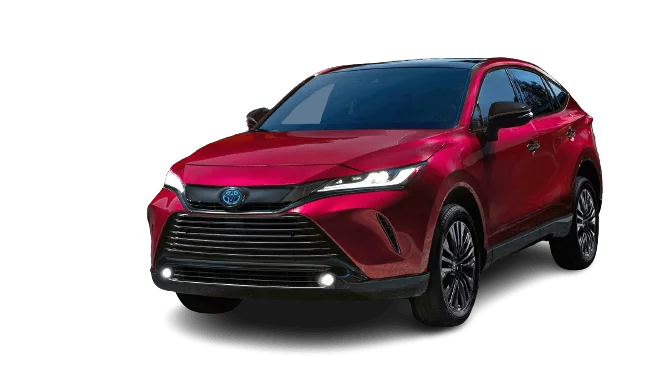 2023 Toyota Highlander Hybrid
Getting behind a fuel-efficient hybrid SUV no longer necessitates settling for less in terms of capabilities or performance. Your Toyota Highlander Hybrid has 36 MPG city fuel efficiency. The hybrid system produces 243 net hp for power on demand. The Highlander Hybrid can tow up to 3,500 pounds. The electronic On-Demand All-Wheel Drive (AWD-i) ensures confident driving in all climates.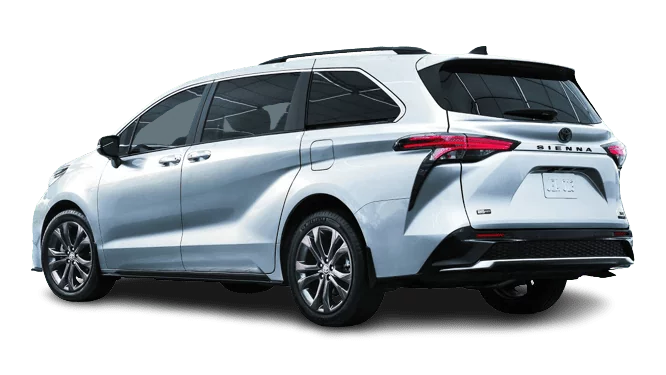 The 2023 Toyota Sienna
The most popular minivan in the United States is also the most fuel-efficient it has ever been. The Toyota Sienna is the only minivan in its class to provide a class-exclusive All-Wheel Drive (AWD) system. An innovative hybrid engine powers it, so it's sure to please everyone in the family. The Sienna's combined 36 MPG fuel efficiency rating means you can go farther on your travels than ever before.
The Sienna's flexible seating options allow you to tailor the vehicle's interior to transport freight or people. The standard-issue 9-inch touchscreen makes quick work of all your most important media-related chores. All Toyota Sienna passengers are protected by innovative active safety measures thanks to the standard Toyota Safety SenseTM 2.0 (TSS 2.0).
Toyota EV & PHEV Model Lineup
2023 Toyota Prius Prime
The Prius Prime can operate normally in either electric or hybrid driving modes. This makes it Toyota's most efficient hybrid car to date. With a well-tuned Plug-in Hybrid Vehicle (PHV) system and the help of Hybrid Synergy Drive®, you can prioritise efficiency without sacrificing performance. Furthermore, with a full tank and hybrid mode engaged, the Prius Prime can get up to 55 MPG city fuel efficiency.
The Prius Prime stands out from the Toyota Hybrid models because of its charging capability at a regular home outlet. It also allows you to drive only on electric power and get up to 133 MPGe. The Prius Prime boasts one of the greatest estimated ranges in its class (640 miles according to the EPA). The Toyota Prius Prime is an excellent choice for environmentally concerned-motorists. Due to its cutting-edge design, innovative technology, and high-tech lightweight materials, it is highly in demand.
Toyota RAV4 Prime 2023
Are you ready to enjoy the amazing efficiency of an EV without worrying about running out of battery? The Toyota RAV4 Prime plug-in hybrid SUV offers a near-perfect balance of excellent gas mileage. It also offers competent handling in Toyota Hybrid models. You may use the vehicle's basic All-Wheel Drive setup, 302 combined net engine horsepower, and amazing 42 miles of pure electric range on a single charge.
The RAV4 Prime has an EPA highway fuel economy of 94 MPGe and an EPA city fuel economy of 40 MPG. With its luxurious front seats, optional panoramic roof, and sporty paddle shifters, this vehicle creates a thrilling driving experience.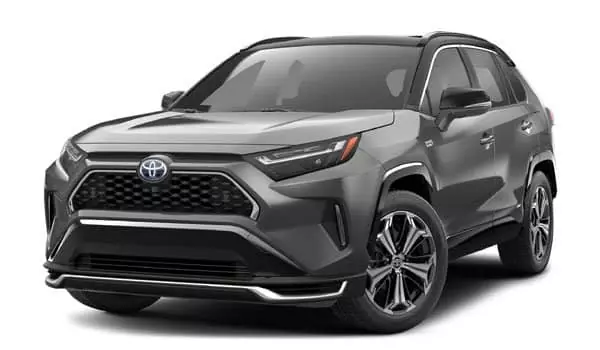 The Toyota RAV4 Prime has a standard 8-inch screen display. It serves as a hub for accessing audio, video, and navigational options. The screen also displays driving information and economic metrics.
In What Ways Do Toyota Hybrid models Benefit Their Owners?
Compared to conventional gasoline-powered vehicles, the emissions from a hybrid car like the Toyota Prius are far lower, making them a better choice for the environment. By combining the benefits of electric and gas propulsion, hybrid vehicles improve environmental sustainability while simultaneously lowering their carbon footprint.
Reducing gas use results in monetary gains. Depending on the hybrid car you purchase, you may also be eligible for several tax credits that may allow you to save even more money.
Due to Toyota Hybrid models, less demand for fossil fuels means cheaper gas at the pump and less dependency on foreign oil.