Are you an enthusiast of Audi? If you are a lover of Audi's beauty and its features then you may also be interested in knowing its interior features deeply. The Audi interior is a place of luxury, cutting-edge technology, and beautiful flair.
 Audi vehicles have more than just a cabin; they have a haven where beauty and practicality coexist in perfect harmony. In this article, we will discuss Audi's interior, from the design to the technology to the myriad other features that set Audis apart.
The Comfortable and Stylish Audi Q5 Interior
The interior of the 2023 Audi Q5 is high-end and well-built, but it lacks the luxury and cutting-edge amenities of its rivals. While the front seats are plush and supportive, the rear seats and trunk are quite cramped.
The SUV and Sportback versions of the Q5 provide enough for five passengers. Available amenities include:
heated seats
leather upholstery
front ventilated seats
rear heated seats
and a heated steering wheel.
The front seats have enough head and legroom, and the seats themselves are pretty supportive. Adults may ride in the backseat in decent comfort for shorter excursions, but the space is best suited to children for longer journeys.
Audi exclusive interior has two full sets of LATCH links on the back seats. On the middle back seat, there is a tether hook for child safety seats.
Interior Features
The Audi Q5 is equipped with several convenient amenities as standard equipment, including
HD Radio
an analog gauge cluster
a 10.1-inch touchscreen
Bluetooth
remote keyless entry
two USB ports
Android Auto
a 10-speaker radio
push-button start
and tri-zone automatic temperature control.
The Audi interior accessories include a sunroof, proximity keyless entry, satellite radio, 19-speaker audio, and a 12.3-inch digital gauge cluster as optional options.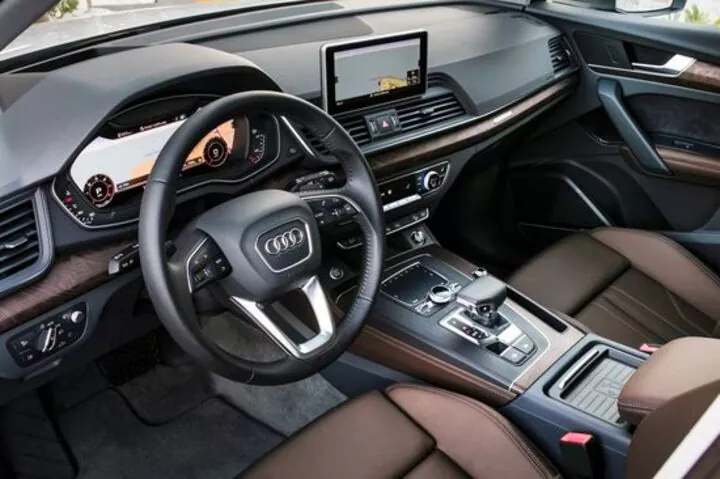 Quick reactions, straightforward menus, and tactile temperature controls contribute to the Q5's touchscreen infotainment system's overall ease of use. However, it may be out of the way for motorists.
Cargo
Compared to other premium compact SUVs, the Q5's load capacity is adequate but not exceptional. Behind the back seats is 25.8 cubic feet of room, and you can expand that to 54 cubic feet by folding the rear seats down. Both 24.7 and 51.9 cubic feet of space are available in the Q5 Sportback model.
The Elegant Audi Q8 Interior
The 2023 Audi Q8 interior is expertly made with high-quality materials, and it offers plenty of room for passengers in both rows and practical storage space. However, opinions on how user-friendly the infotainment system is are mixed.
Five people may ride comfortably in the Q8. Comfortable and supportive front seats offer plenty of legroom for even the tallest of drivers and passengers. It has surprisingly roomy back seats for an SUV with a coupe-like profile. Among the standard amenities are heated front seats and leather upholstery. You can heat the front and back seats, as well as the steering wheel. The front seats are also vented and massaged.
On the back seats on either side, there are two full sets of LATCH links. On the middle back seat, there is a tether hook for child safety seats.
Interior Features
The Q8 comes standard with a digital instrument cluster that measures 12.3 inches in diameter, it also includes:
two touchscreen displays measuring 10.1 and 8.6 inches, respectively
Android Auto
Apple CarPlay
four USB ports
satellite radio
push-button ignition
a panoramic sunroof
navigation, Bluetooth
a 10-speaker sound system
HD Radio
keyless entry
dual-zone automatic climate control
and ambient lighting.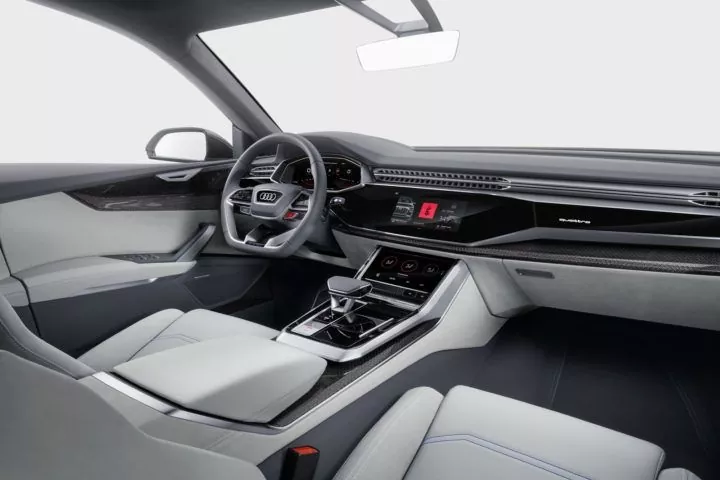 The dual-screen infotainment system in the Q8 is incredibly stylish and cutting-edge in appearance. Still, it is more frustrating to use than conventional buttons and knobs, especially when adjusting the temperature.
Cargo
The Q8's load capacity increases to 30.5 cubic feet while the back seats are in use, and to 60.7 cubic feet when folded down. Plenty of premium midsize SUVs provide greater luggage capacity, but this one can fit a bike. The electric liftgate may be opened without using any physical effort.
Audi Q7 Interior
The 2023 Audi Q7 interior is both attractive and luxurious, thanks to the use of high-quality materials like soft leather, rich wood, and stainless steel. The extensive infotainment system is user-friendly after a brief period of adjustment. The first two rows of seats are more spacious than the third. The cargo compartment is similarly modest in size.
Audi Q7 Seates
The Audi Q7 is a high-end seven-passenger SUV with three rows of seats. Leather seating surfaces, front seats that can be heated and adjusted electrically, and a power-folding third row are all standard features. Power rear window sunshades, soft-closing doors, heated steering wheel, and vented and massaging front seats are some of the available luxury features.
The Q7's front seats are exceptionally roomy, supportive, and comfy. The middle and rear seats are similarly very comfortable. However, they are stiffer and have less bolstering than the front seats. The first two seats also provide plenty of space for both passengers' heads and legs. The third row is uncomfortable for anyone but little children.
Interior Features
The Q7 has a 12.3-inch digital gauge cluster (Audi Virtual Cockpit), navigation, and a Wi-Fi hotspot. It also includes satellite radio
USB ports
tri-zone automatic climate control
push-button start
proximity keyless entry
HD Radio
Bluetooth
a 10-speaker audio system
a universal garage door opener
and a panoramic sunroof.
A 19- or 23-speaker Bang & Olufsen music system, multicolored ambient LED inside lighting, and four-zone automated temperature control are also available.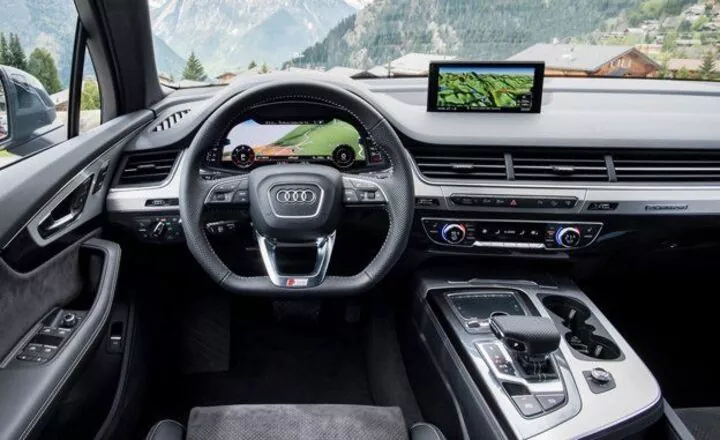 The infotainment system in the Q7 has a tiny learning curve, but once you get beyond it, it serves its purpose admirably. It includes various functionalities, a simple user interface, precise visuals, and rapid reactions. There aren't many physical controls, but you can feel the touch screen's response to your inputs.
Cargo
Compared to other three-row luxury midsize SUVs, the Q7's cargo capacity is below average. When the third row is in use, 14.2 cubic feet of room is available, 35.7 cubic feet when the second row is pulled down, and 69.6 cubic feet when both rows are collapsed. Power-folding third-row seats and a hands-free power liftgate are standard features.
Audi Interior Lights Won't Turn On When Door Opens: Troubleshooting Tips
Nothing is more annoying than opening the door to your Audi and finding that the lights don't turn on. Fortunately, this is a frequent problem, and it can usually be fixed with minimal effort in a wide variety of automobiles. In this article, we'll go over some of the most prevalent causes of malfunctioning Audi interior lighting, as well as some potential fixes.
1. Check the Interior Light Switch:
The manual interior light switch in Audis is typically situated next to the rearview mirror. Check that this switch is set properly. If it's in the "OFF" position, the lights inside won't come on when the door is opened. Putting it in the "DOOR" or "ON" might solve the issue.
2. Check the Door Sensing Devices:
When the driver or passenger opens a door, a sensor in most new cars, including Audis, turns on the inside lights. These sensors might fail to function correctly if they become soiled or malfunction. Ensure the sensor is not impeded by any dirt or debris around the door frame. If it doesn't fix it, you may need to have a mechanic have a look at the sensors and potentially replace them.
A Weak Or Non-Functioning Car Battery:
The functioning of the interior lighting is another factor that might be affected by a weak or dead automobile battery. A weak battery might prevent the lights from turning on when the door is opened. The battery in your automobile should be inspected and replaced if necessary.
4. Blown Fuse:
A blown fuse might be the cause of the inside lights not working. Refer to your Audi's owner's handbook or fuse box diagram to identify the proper position of the inside light fuse. If a blown fuse is found, it should be replaced with another fuse of the same amperage.
5. Wiring or Connection Problems:
Wiring and connections tend to loosen and wear out over time. If the problem persists after inspecting the switch, sensors, battery, and fuse, the fault may lie in the interior lighting's wiring or connections. In this instance, having an expert technician check for and fix any loose or improper connections is preferable.
The Audi interior lights may not always switch automatically when the door opens. In Addition, Common issues will be addressed and resolved with our help.
Closing Remarks
Audi's dedication to creating a top-notch cabin is evident. The interiors of Audi vehicles are widely recognized as the benchmark for automotive elegance because of their clean design, high-quality materials, and cutting-edge technology. Audi interior is something to be savored and enjoyed, whether you're a current owner or thinking about becoming one.