What is Honda's CMBS (Collision Mitigation Braking System)? The Honda Sensing safety and driver-assistive technology package includes CMBS as one of its features. But what exactly are these driver-assist gadgets? This system uses a variety of cameras, sensors, and radar to increase the safety and awareness of the driver. If the Honda CMBS detects an imminent collision, it can automatically use the brakes to help bring the car to a halt.
Honda has issued a recall for specific models of the Accord, CR-V (EX, EL, and Touring), and Pilot manufactured between 2016 and 2020 due to issues with the brake systems. Let's explore more about Honda's collision mitigation braking system.
Collision Mitigation Braking System Problems
Multiple class action lawsuits have emerged, pointing toward potential flaws in Honda's Collision Mitigation System. The debate centers on whether these flaws are causing unintended vehicle behaviors, which could lead to hazardous situations on the road.
Symptoms and Responses of the Defective System Vehicles equipped with this system have been reported to display alarming behaviors. They might suddenly jerk or, in some cases, the brakes could activate without any apparent reason. When traveling at high speeds or in heavy traffic, these sudden moves shock the drivers and constitute a serious threat.
Honda Sensing Suite
The problems don't stop at the Collision Mitigation System. Honda is facing a barrage of allegations that their Honda Sensing suite, a collection of driver assistance technologies, has inherent safety issues. While these technologies are designed to aid drivers and enhance safety, the reported glitches suggest a different reality.
False Alarms and the Perils of Incorrect Detection
One of the most worrying instances is that the CMBS often sends out false alerts. The system is sometimes too careful, mistaking harmless things or situations for impending dangers. This is the opposite of what it's supposed to do, which is to help drivers avoid accidents. One example is that Honda cars are said to mistakenly see oncoming traffic as an obstacle. These kinds of fake alarms can make people act in ways they don't need to, which could end up doing more harm than good.
External Factors Affecting CMBS Performance
Several outside factors are said to affect the CMB's dependability. The system can fail because of things like different road conditions, weather, quick changes in lighting, shadows, different times of the day, and even everyday items on the road. It's a big problem when a system meant to keep accidents from happening becomes uncertain because of common outside causes.
Additional Concerns with Honda Sensing Suite
Aside from the CMBS, other parts of the Honda Sensing technology suite have also been looked at closely. Some drivers say that lane maintenance alerts are not what they seem to be. These fake alerts can easily take a driver's attention away from the road, which is not what the system is supposed to do, and make it more likely that an accident will happen.
Legal Recourse and the Importance of Expert Consultation
Honda owners who have had problems with the Honda Sensing suite, especially the CMBS, may be able to get justice through the courts. These kinds of cars might be considered "lemons" by the law. Because the problem is so big and could have big effects, talking to a lawyer who knows about lemon law might be the best thing to do.
How Does Collision Mitigation Braking System Work
Honda's Collision Mitigation stopping System is an automatic emergency stopping system that uses parts of the Forward Collision Warning (FCW). Cutting-edge technology is used by the Honda Sensing FCW, a new safety feature, to help keep drivers and guests safe. These systems work thanks to radar devices in the lower front hood, the camera on the inside, and other safety tech.
Forward Collision Warning System
The Forward Collision Warning System from Honda helps drivers escape head-on collisions by letting them know when obstacles are in the road. When the Honda FCW finds something, it will tell the driver by sound and light. If the driver ignores the alarms or doesn't respond in time, the Honda CMBS will keep going off. At the same time, light brakes will be used, and if an accident can't be prevented, strong brakes will be used to lessen the damage.
In addition to the sensors above, Honda Sensing also features:
Distraction Reduction for Motorists (RDM)
Low-Speed Follow for Adaptive Cruise Control (ACC)
Automatic Lane Keeper (LKAS)
These systems are meant to assist drivers in maintaining a safe pace, directing the vehicle, and warning of impending lane departure.
Nonetheless, Sensing technologies aren't always reliable. As a result, the Honda's broken braking system threatens the lives of the car's occupants. Your Honda Accord, CR-V, Pilot, or any Honda car may be affected.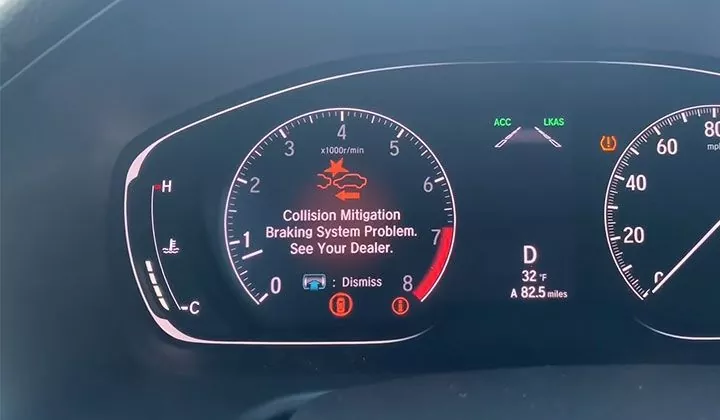 The CMBSTM8 Collision Mitigation Braking System is a cutting-edge safety feature.
Forward Collision Warning (FCW)9 functionality is included in.
It has a camera on the front windscreen and a millimeter-wave radar transceiver that work together to give you a forward accident warning. This is part of Honda Sensing®, a suite of active driving aid technologies.
CMBS is meant to help cars avoid head-on accidents by giving them both visual and audible warnings.
If the system thinks that a crash is going to happen, it can apply the brakes to lessen the damage.
There are three phases to the system's operation:
FIRST PHASE:
There will be visible and audio warnings sent to the driver if there is a risk of a frontal collision with an object ahead, a pedestrian, or an oncoming vehicle.
SECOND PHASE:
If the driver does nothing to mitigate the increasing accident risk, the system will continue its visual and audio warnings and apply mild braking force.
THIRD PHASE:
If a collision is inevitable, the system will keep sounding warnings and flashing lights, and it will deploy full brakes to reduce impact severity.
It's possible that CMBS8 won't have enough time to stop in time to avoid a collision.
The driver must constantly be vigilant when using CMBS since it cannot always identify obstacles in the road.
Furthermore, if the system determines, CMBS may skip stages two and three altogether and proceed directly to step three.
Wrapping Up
The collision mitigation braking system function helps the driver lessen the impact of a collision with an approaching vehicle or pedestrian. The millimeter-wave radar and monocular camera will alert the driver with visual and auditory cues if a collision is imminent. When the system detects an imminent accident that cannot be averted, it automatically applies the brakes.