The Nissan Frontier Pro-4X pickup truck has been completely redesigned for the 2022 model year to attract a new generation of drivers. The all-new Nissan Frontier delivers greatly with its distinctive style, modernized technology, and noticeably improved performance stats and amenities. The PRO-4X trim level is one of the best features of the Nissan Frontier. But will the NISMO off-roading components be used in the 2022 Nissan Frontier PRO-4X? What are the features? Continue reading to learn all you need about the 2022 Nissan Frontier PRO-4X.
Nissan Frontier Pro 4x Specs
An off-road-oriented midsize pickup truck is the Nissan Frontier Pro 4x. Here are some details about it:
Engine Performance
Although it is a carryover from the last generation, the Frontier's engine is a new one unveiled in the previous generation's final year. It has a 3.8L V6 engine that generates 231 kW and 381 Nm of torque in addition to 310 horsepower.
When leaving a stop or merging onto a highway, the engine provides enough power to move the 2,081 kg (4,587 lbs) frame of the Nissan Frontier. When unladen, it seldom ever needs to rev higher than 3,000RMPS. Unfortunately, I was unable to pull a trailer or carry a load.
Fuel Efficiency
The 2022 Nissan Frontier Pro-4X King Cab has an estimated fuel economy of 10.7 L/100km (22 MPG) on the interstate and 13.9 L/100km (17 MPG) in cities. Although the Toyota Tacoma only has a 6-speed automatic gearbox, the Frontier's fuel efficiency is marginally greater than that of the Tacoma. During my time with the Nissan Frontier, I could average 13.2 L/100 km (18 MPG), almost the same as the previous crew cab Frontier I drove earlier in the year.
Transmitter
The 9-speed automatic gearbox is connected to the 3.8L V6 engine. This transmission is excellent if you allow the gearbox to choose when to change speeds since gear changes are swift and smooth. The gear selector allows for manual control. However, the gearbox responds quite slowly to this. The computer should be trusted to choose when to change gears. There is also a Tow mode, which modifies the transmission's characteristics to keep the engine constantly operating in the "sweet spot" for towing big loads.
Braking
The Frontier lacks the sophisticated 4-piston fixed calipers seen on other midsize pickup trucks, but its standard brakes are still effective enough to stop the vehicle. The brake pedal also has a strong feel and is simple to modulate. When you're off the main route, the Pro-4X trim gets downhill descent, but it only works with 4WD and can't be utilized in 2WD mode.
Handling
The Nissan Frontier drives steadily and offers you a sense of control as you turn. Bilsten shocks are added to this Pro-4X grade, which slightly stiffens the suspension and lessens body roll in turns. The steering is too heavy at low speeds, which is my main gripe with the driving characteristics.
Nissan Frontier Pro 4x Towing Capacity
The 2022 Nissan Frontier is only offered with a 44 in Canada. There are 42 options available in the United States, which affects towing and payload figures (along with cab configuration and trim level). The maximum towing capacity for this Pro-4X King Cab variant in Canada is 6,390 lbs. The maximum allowable payload is 1,360 lbs. Learn here about the 2022 Nissan Altima History, Features, And Price.
2022 Nissan Frontier Pro 4x Accessories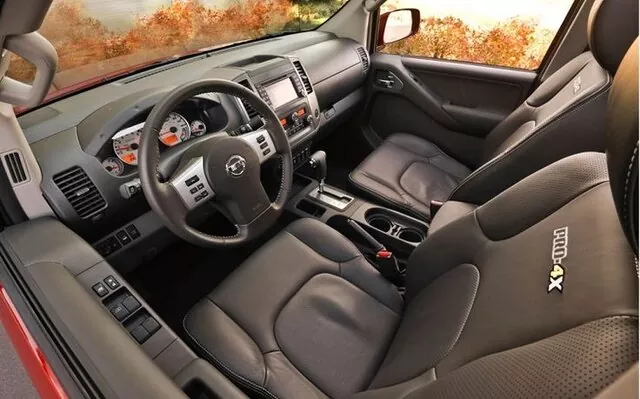 Aluminum-Alloy Beadlock-Style 17″ Wheels
These rugged 17-inch aluminum-alloy wheels will give your Frontier that extra bit of off-road attitude you've been looking for.
High-Wall Mats & Mats for All Seasons
Always take off your shoes at the door to keep your Frontier clean. Footwells are sturdy because of the thick walls surrounding them.
Extended Bedslide
You need to get out of bed more. The Sliding Bed Extender lets you quickly and easily expand your sleeping space. The Utili-track® Channel System allows for complete customization at any point in the track.
Nissan Frontier Pro 4x Bed Size
The Frontier 2022 has a larger bed than the Frontier 2021. It comes with a damped tailboard and a 5- or 6-foot bed. It is the later size on this King Cab. A 120 Volt outlet and dazzling LED bed lights are also included.
Competition
New and updated models in the midsize pickup truck sector are heating things like Death Valley in the summer, and Rivian's electric pickup vehicle might further shake things up. The 2021 Honda Ridgeline shares the Frontier's tough exterior styling cues and adds Honda's renowned reliability and high-quality construction to the mix.
Although the Pro-X editions of the Toyota Tacoma, TRD Pro, and Jeep Gladiator have more equipment for off-road performance, the TRD Pro and the Gladiator still hold their own in the truck market across the globe.
The GMC Canyon and Chevrolet Colorado are also available. We'll wait until the new Ford Ranger Raptor comes out to try to outdo the competition before bringing up the old reliable.
Nissan Frontier Pro 4x Problems
The Frontier, Nissan's entry-level pickup vehicle, has had its share of problems. Several reports of problems with this car have occurred from its owners throughout the years. You should still consider the Nissan Frontier a viable pickup option. On the second-hand market, it often sells for less than competing pickups. However, awareness of potential dangers is helpful.
If you want to know about the 2023 Nissan Maxima Features And Review click here.
Faulty Fuel Level Sensor
RepairPal reports that a fuel level sensor in 11 Nissan Frontier models is prone to failure. There have been 277 reports of the issue thus far, the most recent for a 2010 Frontier.
There is a recall for Nissan Frontiers manufactured between 2006 and 2008 because of a known safety issue. That recall will provide free service for all affected pickups. Changing out the petrol pump is the solution.
Abnormal Engine Noise
Trucks are noisier than other types of vehicles, such as budget cars. However, the Nissan Frontier from a certain era may be noisier than it should be because issues with the timing chains are common in this medium-sized vehicle. To run your car smoothly, you should keep changing your car's engine oil.
You should take your truck in if you hear a jarring noise from the timing chain region. The secondary timing chains have too much slack, causing a whining or buzzing sound. Furthermore, the issue is widespread at around the 150,000-mile threshold.
Stall Or Failure Of The Engine
Pickup trucks, in general, suffer from rust, and the Frontier is no exception. A common problem with several makes and models is a distributor shaft bearing that rusts. This bearing will freeze up if allowed to rust. And that's why the car won't start or will stall out.
Changing out the distributor is a common solution. However, it will have to be decided on a case-by-case basis. It will probably cost you roughly $100 to have a diagnosis of "no start" made. Follow these tips to maintain your car for long-lasting.
Is The Nissan Frontier A Reliable Pickup Truck?
The consensus is that the Frontier is a competent midsize pickup. You can still acquire one with a V6 engine; used ones are less expensive than a Toyota Tacoma.
Starting in 2023, every Nissan Frontier will come standard with a 3.8-liter V6 engine producing 310 horsepower and 281 pound-feet of torque. Car and Driver claim that the third-generation Frontier is a significant upgrade over the previous two generations. That's one thing in favor of exploring uncharted territory. Learn about another rock vehicle, the 2023 Nissan Pathfinder Features, and Pricing.
Conclusion
The Nissan Frontier Pro 4x is a midsize pickup truck that is both competent and robust, making it ideal for off-road travel. All the essential tools and accessories are included. The engine's performance and towing capability make up for its flaws. Nissan's limited and powertrain warranties are comparable to other midsize pickup truck manufacturers. However, except the Honda Ridgeline, practically all the competition also provides free routine maintenance.