For the 2022 model year, Toyota has made just minor updates to the Prius hybrid, which has been in production for many years. The most notable change is the inclusion of a new blacked-out Nightshade Edition trim, which joins the many other Nightshade-trim Toyotas currently on the market. The second major change in the 2022 Toyota Prius is installing a standard rear-seat reminder. It assists drivers in taking their passengers, pets, and other valuables with them when they exit the vehicle.
Exterior
The new Toyota Prius 2022 has a stylish and modern design style. Front fascia angles are sharp, and there are modern-looking LED headlights and daytime running lights. There are additional fog lights for use when visibility is low. The low-slung platform combines lively aesthetics with exceptional aerodynamic efficiency to provide a roomy interior with plenty of headroom and baggage capacity.
Interior
Japan has never had an automobile with an interior as beautiful as the Toyota Prius'. It has a friendly and cozy interior with features like a lane departure alert with steering aid, adaptive cruise control, high auto beams, adaptive headlights, a sunroof, leather seats, and a power moonroof.
The front passenger seat also offers four-way adjustability, although only the driver's seat includes motorized lumbar support. The Prius is quite easy for new drivers to get behind the wheel. The high degree of flexibility of the seat means that you can set it up in a manner that is pleasant for most drivers. In addition, this is entirely hands-free.
Engine
The 2022 Toyota Prius features a 1.8-liter, 4-cylinder engine that produces 96 horsepower and 105 lb-ft of torque. This hybrid system has a total of 121 net horsepower. The engine has a 16-valve (4-valve/cylinder) DOHC valve train. Intelligent Variable Valve Timing is included in the engine (VVT-i). These solutions guarantee improved fuel economy and lower emissions. This power plant has an electronic CVT gearbox coupled to the engine (ECVT).
2022 Toyota Prius battery
DC201.6V nickel-metal hydride batteries power the LE AWD-e and XLE AWD-e. DC207.2V lithium-ion batteries power the L Eco, LE, XLE, Limited, and 2020 Edition. Your 2022 Toyota Prius battery will normally last between 3 to 5 years. However, that might range diligently based on the kind of battery, poor weather battery capacity, and driving behavior.
Gas Mileage
Prius's success may be attributed to its low gas consumption. Toyota's Hybrid technology gives the Prius 2022 excellent fuel economy; you can easily obtain 36 to 40 kilometers per liter on the highway. The EPA estimates a combined city/highway fuel economy of 56 mpg for the Eco grade, dropping to 49 mpg with all-wheel drive.
Connectivity
Bluetooth and a rearview camera are among the new model's basic equipment. Features include automatic temperature control, keyless entry, a 7-inch touchscreen entertainment system, and six speakers.
Convenience and Storage
Thanks to its hatchback design, the Prius has a large luggage room behind the rear seats, and the centrally located shifter makes the dashboard ideal for stowing personal items. Only two tiny door pockets and the cupholders in the fold-down center armrest are available as rear-seat storage options.
Ride & Handling
The new 2022 Toyota Prius has improved suspension over its predecessor. In addition to improved comfort, the automobile also has sharper responses and handling. Both the ride quality and traction in the new Prius have been improved. It is still somewhat stiff on rough pavement but more relaxed, responsive, and accurate over such terrain.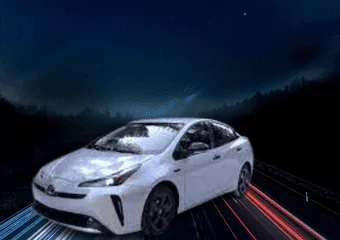 Safety Features
Important Key safety elements include:
An automatic brake system is equipped with a pedestrian detector to prevent accidents.
Safety features that prevent you from drifting out of your lane and help you stay in it
Autopilot with variable speed limiter
Warranty
Thirty-six thousand miles are included in the limited warranty.
The first 60k miles are free under the powertrain warranty.
All hybrid parts have a warranty of 100,000 miles.
Up to 25,000 miles of free servicing are provided.
Toyota Prius 2022 Colors
Toyota Prius 2022 is available in 7 various colors such as.
Silver Metallic
Dark Blue Mica
Emotional Red
White Pearl
Super White
Gray Metallic
Attitude Black Mica
2022 Toyota Prius Prime vs 2022 Toyota Prius
The price of petroleum may spike suddenly for various reasons, including supply and demand, as well as political unrest, as we've witnessed over the previous decade. According to recent surveys, American consumers are once again prioritizing fuel efficiency when shopping for a new car due to the relatively high cost of gasoline.
The Toyota Prius and Prius Prime are two excellent fuel-efficient automobiles to consider. The Prius is what is called a "conventional hybrid," meaning it combines a fuel engine with an electric motor and a battery system to achieve maximum efficiency." The Prius Prime has a longer range than the standard Prius—about 25 miles—and can be driven on electricity alone without using petrol.
2022 Toyota Camry Hybrid vs 2022 Toyota Prius
Toyota's Camry Hybrid and Prius Prime are two of the most popular hybrid vehicles on the market today, and for a good reason. Even though they aren't in the same division, these two hybrid choices are always vying for the attention of eco-conscious drivers.
The hybrid version of the 2022 Toyota Camry has a combined 52 mpg and a 13.2-gallon fuel tank. The superb hybrid engine of this reasonably priced hybrid vehicle allows it to drive around 686 miles on a single tank of petrol. It will have a reduced range while mostly covering city miles and a larger range when primarily covering highway miles. But 2023 Toyota Hybrid models come with various excellent updates.
A combined 54 mpg is available in the 2022 Toyota Prius Prime and has an 11.4-gallon fuel capacity. This hybrid electric vehicle (PHEV) has a maximum range of 25 miles when running only on battery power and roughly 640 miles on gas with a full charge. Depending on how you drive, your mpg might be higher or lower.
Conclusion | 2022 Toyota Prius
The 2022 Toyota Prius is the best choice for low-income buyers looking for a car from a dealership or a used car at a neighborhood gas station. There is vast cargo space for passengers and luggage within the roomy interior. Yet, the Prius's interior may become loud at higher speeds, and its multimedia features quickly become antiquated.