Looking for a sophisticated and powerful car? Do you long for a state-of-the-art ride that provides entertainment and security in equal measure? Introducing the pinnacle of automotive engineering and aesthetics, the 2023 Audi A3 Sedan. If you want to buy this car read our in-depth evaluation to find out the 2023 Audi A3 review to know what makes it so special.
Exterior Design & Dimensions
The 2023 Audi A3 has a striking and kinetic appearance that immediately draws the eye. Audi's designers have put much effort into creating a sleek, aerodynamic car. The top and side panels, front grille, and hood have been carefully contoured to maximize airflow. This aerodynamic body style improves the vehicle's acceleration and gas mileage and makes it seem more stylish.
Audi provides various paint jobs to further personalize your driving experience. You may choose from nine eye-catching exterior hues, including the metallic Atoll Blue. Audi offers a unique Black optic sports kit for customers who want an even sportier appearance. The exterior of the A3 is upgraded with gloss black trim, bigger 18-inch wheels, and a sports suspension with this package. The latter improves the ride quality and driving experience by reducing the car's ride height and tightening the handling.
Expanded Exterior Features:
Keyless Entry System, the Next Generation: No more searching for keys; this state-of-the-art keyless entry system is a huge time saver.
Full LED Headlights: These aren't your regular flashlights, sir. Thanks to their distinctive daytime running light characteristic, you'll stand out in the daylight and at night.
Dynamic Turn Signal LED Taillights: The vehicle will immediately feel more upscale and secure.
Wheel Style: The 17-inch five-arm wheels are aesthetically pleasing and practical since they are equipped with all-season tires.
Concealed Exhaust Tailpipes: A refined touch that helps to complete the A3's sleek, contemporary appearance.
2023 Audi A3 Interior Features & Technology
The 2023 Audi A3 Sportback interior is a haven of luxury and cutting-edge technology. Audi spared no expense in creating a cabin that is the pinnacle of luxury and ease of use. The dashboard is in and of itself a technological wonder, with high-definition graphical displays providing simple access to crucial driving information and entertainment choices. Audi's multimedia system takes center stage with its expansive 10-inch display and intuitive interface for all your navigation, connection, and entertainment demands.
The multimedia system's interface, like the Audi RS7 Sportback, is intuitive and easy to use. Whether you use your fingers or a mouse, navigating and adjusting settings is a breeze, so you can keep your attention where it should be—on the road.
In-Depth Interior Features:
Panoramic Sunroof: A premium feature that also helps lighten the interior, the panoramic sunroof gives the impression of more space and more openness.
Keyless Engine Start/Stop: Feel the ease of not needing to pull out your keys to start or stop your car.
Premium Materials: The Audi A3's luxurious interior has soft leather seats and leatherette door armrests.
Heated Front Seats: Thanks to the heated front seats, you won't have to worry about being cold in the mornings anymore.
Advanced Displays: You may go with the conventional digital instrument cluster or spring for the 12.3-inch high-definition display of the virtual cockpit plus.
Performance
The performance of the 2023 Audi A3 is unparalleled, cementing the vehicle's position as a class leader in the premium small car market. The powerful 2.0L TFSI® I4 turbocharged engine perfectly balances performance and fuel economy. The seven-speed S tronic® dual-clutch automatic gearbox makes the ride so exciting. This cutting-edge transmission technology guarantees faultless gear changes, which results in silky-smooth acceleration and agile handling.
2023 Audi A3 Engine
The engine's performance is remarkable, as seen by its respectable 201 horsepower and 221 lb-ft of torque. 2023 Audi A3 hp is necessary to handle everything from a relaxed drive on the highway to a brisk walk through a busy metropolis. The A3's engine and transmission work harmoniously, making it a pleasure to pilot whether navigating congested city streets or winding through the countryside.
2023 Audi A3 0-60
However, efficiency should not suffer in favor of power or flexibility. Audi has worked hard to make the A3 as efficient as Audi A7. Fuel efficiency is excellent in the FWD form, with 28 mpg in the city and 38 mpg on the highway. On the other hand, the quattro® all-wheel-drive (AWD) version maintains impressive fuel economy with 27 city/35 highway MPG. You can enjoy the A3's impressive performance without continuously worrying about making a pit stop for petrol.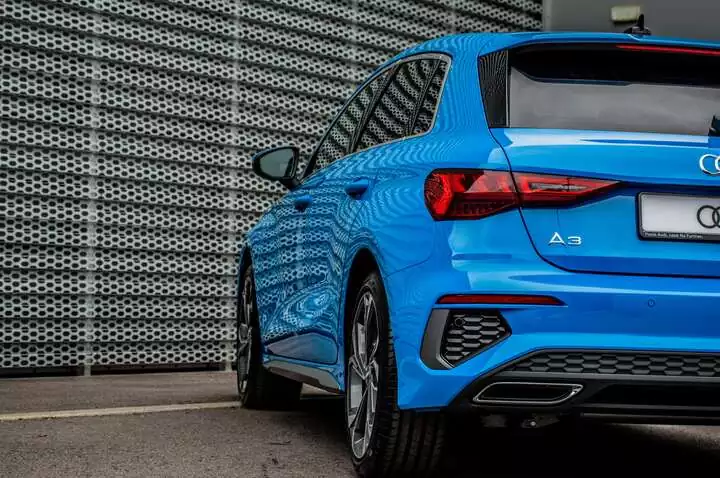 For individuals who need even more traction and stability, Audi offers their famed quattro® all-wheel drive system as an upgrade.
The quattro® system monitors road conditions in real time and adjusts how much power is sent to the car's front and back wheels. The result is unmatched traction and handling in all weather. The quattro® system assures you to drive on wet roads and take on challenging turns.
Key Engine Specs:
Engine: 2.0L TFSI® I4
Horsepower: 201 HP
Torque: 221 lb.-ft.
Finance and Pricing
The base price of an Audi A3 Sedan in 2023 is $35,400. Audi Hoffman Estates has a full finance center with helpful information and services for anyone considering buying or leasing the new A3.
Size and Cargo Space
The A3 has enough room for five people to ride comfortably and enough baggage, food, or anything else you may need.
Conclusion
The 2023 Audi A3 is more than simply a car for the affluent; it's a statement about one's taste in luxury. It shows modern elegance thanks to its sleek exterior, cutting-edge interior, and powerful performance. Don't let this amazing automobile slip through your fingers; contact Audi Hoffman Estates at (847) 843-9900 to arrange a test drive.
Whether navigating the congested streets of Chicago or setting out on a weekend road trip. The Audi A3 will be a reliable and exciting companion. See this wonder and take advantage of Audi Hoffman Estates' excellent service.