Looking for a stylish and fuel-efficient SUV that can accommodate your growing family? Have you ever worried about whether or not it is possible to have high-end amenities without going into debt? What if you could get great gas mileage without sacrificing safety or the latest tech? If you've ever wondered about any of these things, you're in for a real treat. Read on for a full analysis of the 2023 Kia Sportage Hybrid EX, a model that meets all these criteria, and more.
New and Improved Measurements
The 2023 model stands out for several reasons, the most obvious being its increased size. The car's overall length is now 7.1 inches, and the wheelbase is now 3.4 inches longer. This equates to an improved driving experience and increased space for rear passengers, both of which are firsts in the hybrid SUV segment.
What's Included in the Feature Set?
The EX is positioned as a middle-tier trim yet offers exceptional value. It has everything you might want, including heated side mirrors, a built-in navigation system, and 12.3-inch displays. 2023 Kia Sportage Hybrid EX features include lane departure warning, pedestrian detection, and forward collision avoidance aid. 
The 2023 Kia Sportage Hybrid EX SUV includes a cutting-edge speech recognition system. In other words, you can adjust the climate control, change the radio station, and input your destination into the navigation system without taking your hands off the wheel. Those who value security and ease of use will appreciate this sensible improvement.
Aesthetics and Design
Exterior features include radical arrow-shaped headlamps and a unique snout, making a statement. The Sportage Hybrid EX has a unique design that makes it stand out from the crowd.
Powertrain and Efficiency
With its 1.6-liter turbocharged I4 engine and hybrid technology, the Kia Sportage Hybrid EX generates 227 horsepower. The balanced, silky, and quick performance is a joy to drive.
Drive Modes and Transmission
The Sportage Hybrid EX replaces the slow CVTs of the past with a 6-speed automatic gearbox. The SUV has a Snow mode that locks the middle differential for better grip and handling in slippery conditions.
Technical Specifications and Fuel Economy
The Sportage EX is a hybrid that excels in fuel economy, getting 38 MPG combined in the city and on the highway. Despite the cold and snow, it achieved 32.2 MPG in combined city/highway testing. The following are the 2023 Kia Sportage Hybrid EX specs:
Weight: 3,896 lbs.
Wheelbase: 108.5 inches
Comprehensive Length: 183.5 Inches
Capacity of transportable goods: between 39.5 and 73.7 cubic feet
Towing Capacity: Up to 2,000 lbs.
Interior Conveniences and Style
The 2023 Kia Sportage Hybrid EX interior is stunning. The SUV's two 12.3-inch displays, which are the instrument panel and infotainment systems, are a one-of-a-kind design and technological achievement. The touchscreen's touch-sensitive temperature and radio buttons are unresponsive while you're wearing gloves, which is a minor complaint but something to consider for people living in colder climates.
The two-tone color scheme and high-quality materials throughout the interior exude opulence. The warm steering wheel and the electric front seats increase the vehicle's overall coziness.
Infotainment and Controls
Dual 12.3-inch panels, simple menus, and an intuitive design characterize the infotainment system. The temperature and radio controls are touch-sensitive, although they may not respond properly if you wear gloves.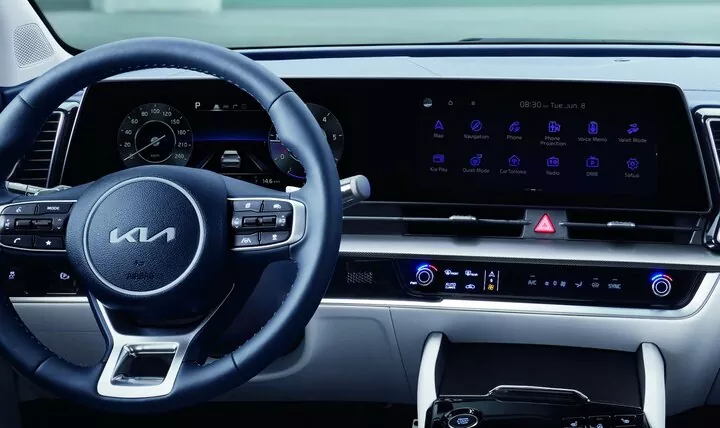 Cargo Space and Practicality
The huge cargo room is almost 40 cubic feet behind the second row. Need more space? There are over 74 cubic feet of storage space when the back seats are folded down.
Premium Package
A nice option for individuals seeking to add a splash of luxury to their Sportage experience is the 2023 Kia Sportage Hybrid EX Premium package. It costs an extra $1,500 but includes a panoramic sunroof, LED inside lighting, a hands-free hatch, and twin-lit vanity mirrors.
Value and Cost
The Kia Sportage Hybrid EX begins at $32,285 (including delivery) and is loaded with goodies at an affordable price. Also, the battery pack is covered by a 10-year, 100,000-mile powertrain warranty.
Competition
There is a lot of competition for the Sportage Hybrid EX, including the Hyundai Tucson, Honda CR-V, Mazda CX-5, Ford Escape, and Toyota RAV4. However, it is an appealing option due to its price and many features.
EX vs. SX Prestige
When considering the 2023 Kia Sportage Hybrid EX vs SX Prestige, the EX provides outstanding value for its price, particularly for families who need space but don't want to break the bank. While more abundant than the EX, the SX Prestige has a higher starting price of $37,485 than the EX's $32,285. AWD is included in both grades as standard, although the SX Prestige may include extra features that some customers may not need.
A Vesta Blue Colour Hybrid
The 2023 Kia Sportage Hybrid EX Vesta Blue is a great option for individuals wanting a striking exterior color vehicle. This color choice complements the car's sophisticated aesthetic while lending an air of high-end sophistication that belies its relatively affordable price tag.
The 2023 Kia Sportage Hybrid EX Review
The 2023 Kia Sportage Hybrid EX received high marks for its powerful performance and fuel economy in reviews. Its 1.6-liter turbocharged I4 hybrid engine produces 227 horsepower, and its 6-speed automated transmission controls the power efficiently. The Sportage Hybrid EX is a great option for anyone shopping for a compact to mid-size SUV, despite minor drawbacks like an unexplained buzz between 45 and 50 mph.
The Pluses and Minuses
High efficiency in the use of fuel
Elegant and roomy interior
Full-fledged safeguards
Minor problems with the internal controls
Test drives revealed a little buzz between 45 and 50 miles per hour.
Final Verdict
The 2023 Kia Sportage Hybrid EX is a very adaptable and economical automobile. With its longer wheelbase and increased load capacity, this vehicle is ideal for trips of any length. It is an excellent choice for families since it combines a spacious cabin with impressive performance and efficiency. This SUV is a strong contender in the market thanks to its long list of standard equipment and the large EX Premium package.