The fifth-generation Sportage is a completely new design for Kia's compact SUV. Finally, a hybrid is offered, falling between the Niro Hybrid and the bigger Sorento Hybrid in size. The result is a not-quite-compact SUV that fills an appealing size gap in Kia's SUV portfolio and boasts excellent fuel efficiency. This blog will discuss the 2023 Kia Sportage Hybrid features and important details about this vehicle.
Comparison of 2023 Kia Sportage Hybrid with Other Hybrids
Like other more realistic manufacturers, Kia understands that not every customer is completely sold on purchasing a battery-electric vehicle. A fully electric vehicle is not right for everyone. On the other hand, saving money at the gas pump most surely is. The 2023 Kia Sportage Hybrid goes head-to-head with other hybrid SUVs, including the Toyota RAV4 and the Honda CR-V. Kia has just revealed that the Sportage would get a plug-in hybrid version for the 2023 production year.
In Brief
The new Sportage looks and feels much bigger and more mature.
In particular, the front-wheel-drive version has a very efficient powertrain.
The ride quality and comfort are excellent.
The new hybrid engine in the 2023 Kia Sportage, like the Niro and Sorento before it, significantly increases fuel efficiency. It looks drastically different from the previous version. The Kia Sportage Hybrid, however, is not a pleasant vehicle. The new, more mature Sportage has little in common with the hamster-driven Kia advertising of the early 2000s, which featured a party atmosphere and "clean urban good times." Instead, it's rather generic, offering the same ham-and-eggs comfort that drove the success of the Sportage back in its prime.
In contrast to its previous, more bug-eyed and "cutesy" appearance, the new Sportage has taken on a more conventional SUV profile. The bigger Sorento inspired Kia's design since the two have a similar silhouette and arrangement of lines. As a consequence, the car seems bigger and sturdy overall.
2023 Kia Sportage Hybrid Interior
The 2023 Sportage Hybrid's interior is significantly more spacious than the previous generation's, with greater head- and shoulder space and a bigger luggage capacity owing to the car's new, squared-off roofline. The new Sportage's interior is significantly more refined than before, thanks to the inclusion of premium features across all trim levels. Sportage, you've officially entered the world of 9 to 5s and mortgages.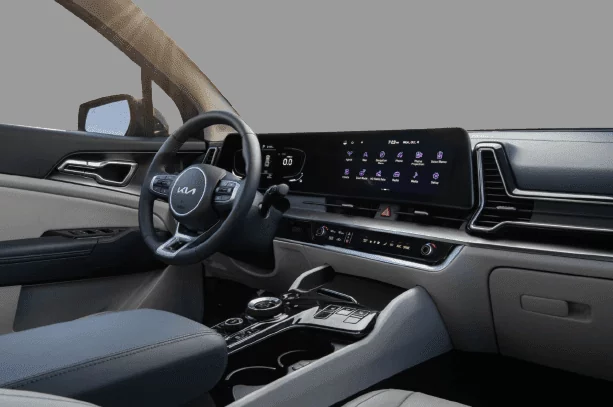 Horsepower
Starting with a 1.6-liter turbocharged four-cylinder engine, the Sportage Hybrid couples it with a motor-and-transmission hybrid system to produce 227 horsepower (169 kW). The basic model comes standard with front-wheel drive, while the SEL Premium and the Limited come with all-wheel drive. All-wheel drive is a possible choice for most consumers. For a whole week, we used it as our test unit.
Gas Mileage
The variations between front-wheel drive and all-wheel drive are significant regarding gas mileage. EPA ratings for the FWD model are 43 mpg (5.5 l/100km) in the city, 38 mpg (6.2 l/100km) on the highway, and a combined 42 mpg (5.6 l/100km), but the AWD model achieves just 38 mpg (6.2 l/100km). Our highway test loop consisted of a 42-mile (67-kilometer) round journey at a rather high altitude, during which time we averaged 38.7 mpg (6.1 l/100km) when driving the Sorento Hybrid AWD. Our weekly average was nearly 39 mpg (6.0 l/100 km) based on Kia's system and not by gasoline topping and measurement. Drivers transport passengers of all kinds, traveling at different speeds and using different driving styles.
2023 Kia Sportage Hybrid Accessories
Even at the base trim level, the 2023 Kia Sportage Hybrid has a long list of desirable features. The two independently controlled climate zones and the 8-inch touchscreen infotainment system that supports both Apple CarPlay and Android Auto (via plug-in) are particularly notable. In the event of an accident, automated emergency braking, lane departure alerts, lane-keeping assistance, and a driver attentiveness warning system are all included as standard features. Higher trim levels incrementally add rear cross-traffic warnings, a surround-view camera system, and other features.
The safe exit assist system stops the door from opening when it detects an oncoming vehicle. The blind-spot vision cameras activate when the turn signals are on. These features are exclusive to the Hyundai and Kia product lines."
Cargo Space
The 2023 Sportage Hybrid handles well for a vehicle of its size and class, with a sharper feel to its takeoffs and steering and a surprisingly quiet interstate presence. Compared to a sedan or sports car, it is neither swift nor agile, although it is more so than most compact SUVs. Kia claims that the 2023 Sportage Hybrid has the most luggage capacity, passenger space, and rear seat legroom in its class. Since the author is towering above us at over six feet tall, we found the latter particularly reflective.
2023 Kia Sportage Hybrid Gas Tank Size
The EPA estimates a range of 23–44 mpg for this model, depending on driving conditions. However, your actual mileage may differ depending on how you drive, the roads you drive on, and the state of your car. The normal variant of the 2023 Kia Sportage has a 14.3-gallon fuel tank. The PHEV also has an 11.1-gallon fuel tank. The fuel tank of the 2023 Kia Sportage HEV can hold up to 13.7 gallons of gas. The most fuel-efficient trim can go 602.8 miles without refuelling when fully tanked.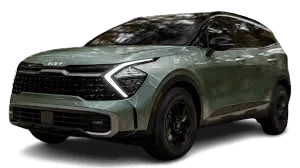 Kia Sportage plug-in hybrid 2023 price
Its base price is around $28,000 (not including shipping). Like the one we tested, a mid-range EX Premium costs $32,700 before taxes and shipping.
2023 Kia Sportage Colors
Clear White, Snow White Pearl, Steel Gray, Sparkling Silver, Black Cherry, Burnished Copper, Hyper Red, and Pacific Blue are just some of the exterior hues available for the 2023 Kia Sportage Hybrid. Seats may be had in several tones, including grey, taupe, and sage green.
2023 Kia Sportage Trim Levels
Its variations are available to buyers: the LX, the EX, and the SX-Prestige. Although official pricing has not been released, industry analysts anticipate that this Kia model will begin at approximately $30,000 since many of its competitors begin at roughly the same price.
2023 Kia Sportage Hybrid Release Date
New for 2023, the Kia Sportage Hybrid is a small crossover SUV that uses a hybrid powertrain to save money on gas. In early 2022, customers may purchase the 2023 model year.
Conclusion
For the 2023 model year, the Sportage will be offered with hybrid and plug-in hybrid drivetrains for the first time. In particular, the latter upgrade makes the Kia a viable option for plug-in hybrids like the Toyota RAV4 Prime and the Hyundai Tucson plug-in hybrid.
The hybrid powertrain is highly recommended because of its greater road responsiveness and enhanced fuel efficiency. The 2023 Kia Sportage EX Hybrid is recommended for 12.3-inch infotainment, Bluetooth charge, and front-seat heating. Sportage EX Hybrid offers more value with its advanced technology options. Sportage Premium offers attractive features such as a panoramic sunroof, LED lighting, and a motorized liftgate. Choose Sportage EX Hybrid for optimal tech features or Premium for added luxury.