A luxury electric SUV is great for families, single people, and couples who need more room for storage and comfort when they drive every day. They're a great way to enjoy the benefits of driving an electric car without giving up power, room, or usefulness. We have outlined the top 5 luxury electric cars below, so you can select your favourite and the best luxury electric SUV for yourself.
What Does A New Luxury Electric SUV Have?
What does a fancy electric SUV look like, and how is it different from other electric cars? A sports utility vehicle, or SUV, is a type of car that is higher off the ground. It has a vast interior and is easy to drive on rough terrain, roads, and in bad weather. There is nothing more luxurious than a luxury SUV. They have modern cabins, infotainment units, and other high-tech features that make them stand out from other SUVs.
Of course, a luxury electric SUV has all of these things plus the fact that it is an EV, with all the benefits that come with that.
Our Five Favourite High-End Electric SUVs
Even though there are many great luxury electric cars out there, these are the five that we think are the best luxury electric SUVs.
1. Audi Q8 E-tron Quattro, Sportback, and SQ8
The Q8 E-Tron Quattro SUV is Audi's top luxury electric SUV. It offers the company's best qualities a new, future-proof home.
It was originally dubbed "E-tron" and fit between the Q5 and Q7. However, it received a redesign in late 2022 and was renamed "Q8 E-Tron," making it more resemble the ICE car of the same name. The upgrade introduced an 89kWh battery to the 50 and 106kWh to the 55 (and fast S). That implies the first one can now go 281 miles on a charge, while the second can go 330 miles, which is great.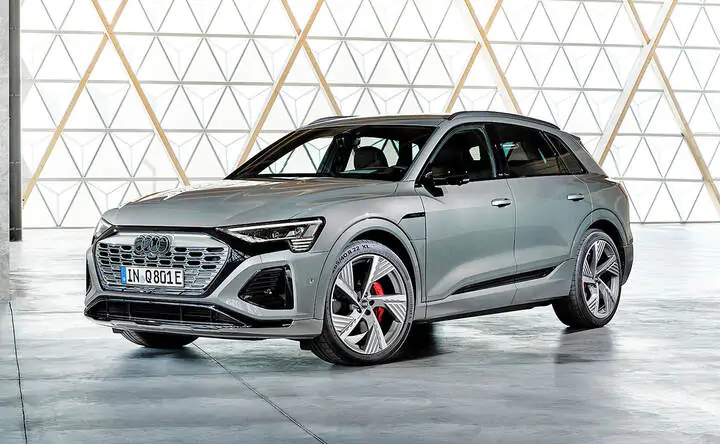 Few interior modifications mean the Q8 retains its sophisticated and polished vibe from its predecessor. Like most Audis, it cruises quietly and is well-built. It feels fast and strong at highway speeds, making driving fun. The picture was completed with meticulous and balanced treatment. Audi's ride quality may make it a premium vehicle. The air suspension silently smooths road irregularities and damaged pavement.
Though it costs over £90,000, the speed, style, and amazement of being able to turn an electric SUV on its side at any time may be worth it.
2. Tesla Model Y
The Tesla Model Y is the best luxury electric SUV and the company's fourth product. It sits below the Model X and competes with the Model 3 sedan by providing a roomier (and more costly) option. It's a top seller because of its spacious interior, many standard features, and rapid acceleration (particularly in the Performance model).
Five people can ride comfortably in the Long Range of high-performance models. Even the base Model Y accelerates to 60 mph in under 5 seconds, which is quite an achievement. All-wheel drive (AWD) is standard across the board.
Cutting-edge innovation like Tesla's sophisticated autopilot driver assistance comes standard. In addition, long-distance trips are made easier thanks to Tesla's extensive Supercharger network.
The Model Y begins at roughly $65,000. This automobile is priced somewhat steeply.
The Model Y's interior is sparse and modern, lacking many classic elements of luxury. The ride is generally stiff, and there were some quality control concerns with the first versions. Tesla is working hard to fix the remaining quality problems.
3. Lucid Air
When it comes to automobiles, few have caused as much of a fuss or kept us waiting as long as the best luxury electric SUV 2023 Lucid Air. Built-in the USA by the same guy responsible for the Tesla Model S, the stunningly stylish saloon has specs that will make it a "killer card" in any game of Top Trumps. 
The range-topping Dream Edition, for instance, boasts 1111bhp (yes, really) and 1025 lb-ft of torque and can supposedly go from 0 to 60mph in 2.4 seconds. The massive 118 kWh battery claims to take the vehicle 520 kilometers before needing to be recharged. If you ever need to recharge, you may do it in just 20 minutes with the help of 300kW quick charging.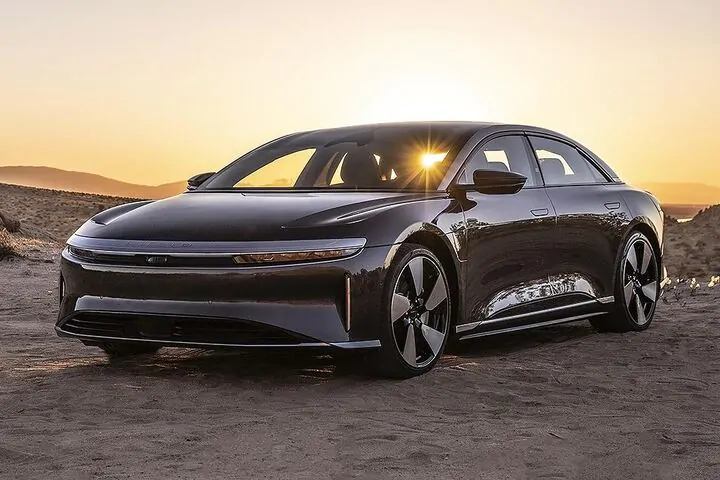 Given the available power, it's hardly unexpected that performance is the highlight; in fact, our reviewer said that the 'neck crushing and irresistible burst of acceleration' was his favorite part. The handling is less spectacular since even with the firmest suspension setting, it still feels a little heavy during fast directional changes and there is no damping adjustability. However, the ride quality is a mixed bag, not quite matching the smoothness and refinement of leading luxury vehicles. Lucid's upper management insists that improvements are in the works and that issues with the finished products will be lessened.
4. EQC Mercedes
The Mercedes EQC is one of the first fully electric sport utility vehicles from the German carmaker, which is moving its attention to electric powertrains. The Mercedes EQC avoids too futuristic aesthetics. It takes design cues from the original Mercedes SUV.
The cabin is not radically different from the standard Mercedes SUV, but it does have some interesting additions. Light strips are built into the EQC's doors, dashboard, and trim, providing ambient illumination. It may be customized in more than 64 ways, including with color and flashing effects. The most remarkable capability is its ability to simulate a dawn over the horizon while you're on the road.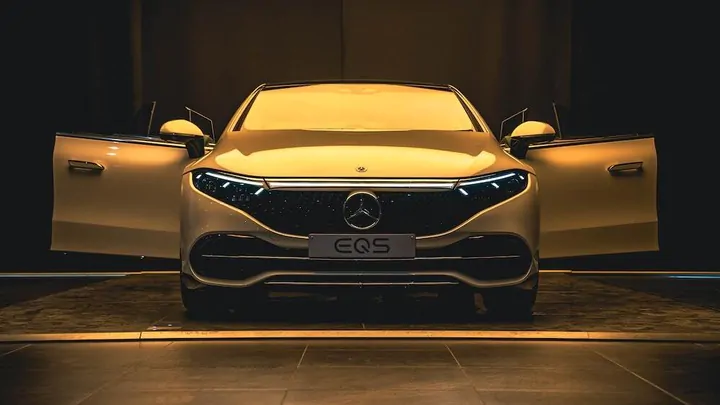 The EQC has a 10.25-inch infotainment system that is easy to use and features a voice command interface that reduces driver distraction. All you have to do is say "Hey Mercedes" before making a phone call, adjusting the radio, or entering a location.
The luxury electric SUV EQC's performance is about par for the course. Using a 50-kilowatt charger, it can be charged to 80 percent capacity in 75 minutes, and it has a stated range of 255 miles. Longer travels are made easier in the EQC with its many driver aids (including adaptive cruise control, active lane-keeping assist, and more).
5. Audi E Tron
Two electric motors provide the thrust for every Audi e-tron. Each E-Tron has two electric motors—one at each axle—providing all-wheel propulsion. A 95 kWh battery pack installed in the vehicle's floorboard provides power for the electric motors. There is a total of 355 hp and 414 lb-ft of torque available from the electric motors. While in Sport mode, the gearbox may be unlocked to produce 402 horsepower and 490 pound-feet of torque for up to 8 seconds. The e-tron isn't freakishly speedy like other modern EVs, but the motors are smooth in their delivery.
It also has a plethora of useful extras. Leather seats and connection with Apple CarPlay and Android Auto are also standard. The digital gauge cluster display may be customized. The e-Tron comes in a wide variety of trim levels, each offering its own set of features and amenities, such as a standard or upgraded Bang & Olufsen sound system, a head-up display, and massaging front seats.
The E-Tron maintained a lot of its appeal as it aged. The e-tron's range is assessed by the EPA to be 222 miles, which is much less than the ranges offered by many of its competitors.
Conclusion:
Electric car sales will overtake gas-powered vehicle sales in 2025, according to several analysts. Several governments have prohibited fossil fuel-powered automobiles from sale.
Solid-state batteries might boost EV range. If the trend continues, the best is ahead.
There are more luxury electric SUVs than ever to satisfy eco-conscious buyers.
Currently, luxury electric SUV 2024 customers may choose from many high-end, eco-friendly SUVs.
Electric SUVs' immediate power, noiseless operation, and cutting-edge comforts are changing the luxury automobile sector. More sustainable, high-end solutions are ensured with more uptake.