Presenting the powerful 2022 Audi E-Tron S, one of the most exciting performance cars, a thrilling blend of intentional innovation and technical development. The E-Tron S takes the excitement to a new level with a cutting-edge three-motor all-electric drivetrain. Even though the E-Tron brand has become associated with amazing efficiency. Technologies like the adjustable air suspension and the larger 6-piston front brake calipers all contribute to the vehicle's performance. Here you will find the 2022 Audi E- Tron S's specs, features, price, and a brief analysis of its trim levels.
The 2022 Audi E-Tron S Specs
Initial Manufacturer's Suggested Retail Price*: $88,200
Rear-biased electric quattro® accelerates from 0-60 mph in 4.3 seconds and has a max towing capability of 3,300 pounds thanks to its three-motor, all-electric powertrain's 469 hp and 717 lb-ft of output (boost mode enabled) (optional features)
Superior six-piston front brake calipers and a dynamic air suspension system
Models with unique bodywork and external trimmings are two inches wider than the regular E-Tron.
Headlights with a Digital Matrix LED array are now in production.
Dual-screen MMI with 12.3-inch adaptive headlights Display sizes of 10.1 inches on the top and 8.6 inches on the bottom
Valcona leather sport seats that can be adjusted in 12 different ways, with heated rear seats, and electric massage
Extra Ordinary Performance of 2022 Audi E-Tron S
The Audi E-Tron S exemplifies the vast performance potential of an all-electric car with its amazing accuracy and assured handling. With the boost mode active, the three electric motors produce a staggering 469 hp and 717 lb-ft of torque. The estimated highway fuel economy for the 2022 Audi E-Tron is 85.7 miles per gallon. Torque vectoring technology allows you to gain grip, increase power, and speed up while exiting curves thanks to the front motor. This allows the Audi E-Tron S to reach 60 miles per hour in an incredible 4.3 seconds from a standstill.
It also has large 15.7-inch front brake calipers colored Dynamic Orange and a basic adjustable air suspension. The special broad bodywork of the E-Tron S includes functioning air curtains and optional 21-inch alloy wheels, making it over 2 inches wider than the basic E-Tron. The 95-kWh lithium-ion battery is strategically placed and can be charged quickly through two charge connections and 150 kW of charging power. A Level 3 DC external fast charger can replenish an empty battery from five% to eighty% in 30 minutes.
Here you can see the amazing features of Audi A7.
Driver-Focused Interior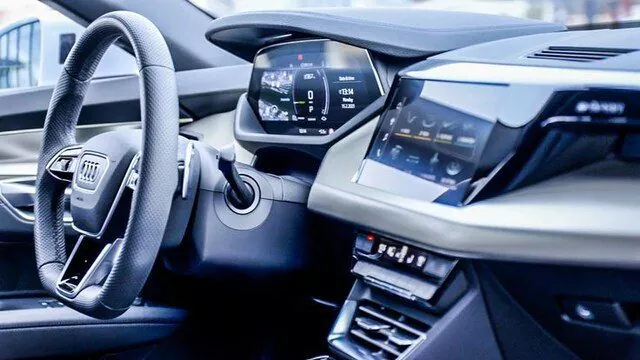 The elegant cabin of the Audi E-Tron S strikes a fine balance between passenger comfort and driver assistance, allowing you to make the most of every mile. Heated outer rear seats, exquisite ash wooden trim, and 12-way power-adjustable sport seats upholstered in Valcona leather are among the basic interior features.
For the massaging, air-conditioning, and memory features that are only accessible from the passenger seat, you'll need to upgrade to the Individual Shape Seat Package. Options like double acoustic glass, a computerized head-up display, and smooth auto doors further improve the vehicle. You may personalize your experience behind the wheel of an E-Tron S by selecting from five different welcoming and exit lighting visuals. Ideal for cross-country excursions, the Integrated Toll Module expedites transactions with practically all major U.S. tolling agencies. Audi's dedication to worldwide environmental preservation is displayed with the E-Tron S, built at a European carbon-neutral factory.
Top-Notch Technology
The Audi E-Tron S, loaded with cutting-edge infotainment and driving aid systems, is living proof that the future of automobiles has come. You can set the 12.3-inch base display in the virtual cockpit to show whatever information the pilot deems relevant. Similarly, a 10.1-inch panel at the top and an 8.6-inch display at the bottom make up the MMI interface, simplifying fundamental multimedia features. Along with the LTE-powered Wi-Fi and Topview webcam, PTI and Google Maps 3D satellite navigation images are standard.
Find here 2022 Audi A5 best features and specs.
Driver Assistance
The E-Tron S has the most up-to-date technology from Audi's driver assistance suite. Audi pre-sensing front, Audi dynamic lane aid with turning assist, Audi adaptive cruise control, and Audi traffic sign identification are just a few examples. The Matrix shape of the LED headlights that come standard on this model helps to offer brighter light in any circumstance. So far, no other high-performance electric vehicle (EV) has matched the standard level of cutting-edge technology in the Audi E-Tron S.
The inside of the E-Tron S has been meticulously crafted to cater to the driver's needs. It has a 12.3-inch virtual dashboard display and 10.1- and 8.6-inch displays. The E-Tron S's double MMI display provides a glimpse into the car's technical prowess. The Audi E-Tron S has a distinctive external design enhanced with possible Dynamic Matrix LED headlights. This makes it instantly distinguishable from its rivals.
Pros
Good and tasteful design throughout.
Superior Driving Etiquette
Superior after-sale service
Cons
Not very entertaining to operate as a vehicle
Range inferior to leading competitors
Unfortunately, it's missing several essential functions for the price.
2022 Audi E-Tron Trim Levels
2022 Audi E-Tron S Line Premium Specs
Electric engine
355 horsepower
414 lb-ft of torque
Automatic transmission with a single gear
AWD System in the Drive Train
About 95-kilowatt-hour capacity battery
Power Up In 10 Hours Battery Recharge time at 220/240 Volts
Audi E-Tron S Premium Plus Features
Initial Manufacturer's Suggested Retail Price*: $88,200
DRL trademark LED headlights in a matrix design
Wheels with a 5-spoke design and a diameter of 20 inches
A 3D sound system by Bang & Olufsen®
Audi's touch-screen navigation system with enhanced MMI® functionality
Audi's E-Tron Sport instrument cluster with virtual cockpit plus
2022 Audi E-Tron Prestige Features
Official Retail Price*: $95,300
See-through display for the eyes alone
Integrated LED lighting for the home's interior
Power-operated, soft-closing doors
Assistance at a Crossroads
Blocking the sun with side windows at the back
The 2022 Audi E-Tron S Sportback Specifications
Electric Motor Driven
Single-speed, direct-drive transmission
AWD stands for "all-wheel drive."
Seating Capacity: 5
Coverage for Electric Vehicle Batteries Is Limited To 8 Years or 100,000 Miles.
4-Year/50,000 Mile Minimum Limited Warranty
The 2022 Audi E-Tron S MSRP
Pricing for the Premium trim level of the 2022 Audi E-Tron Premium electric SUV is $65,900 (not including the $950 destination fee). The base price of a Chronos Edition is $84,400. The Premium Plus model cost $74,800. In 2022, an entry-level E-Tron Sportback will cost you $69,100.
Conclusion
Audi's E-Tron and E-Tron Sportback models have undergone some minor revisions. There is now a black headliner in all Sportback trim levels. We also discussed a brief detail about all the trims of the Audi E Tron. We analyzed the 2022 Audi E Tron S special features, pros, and cons. Its cutting-edge technology urges us to bring all its important features into one place.